For today's bulletin, we look again at some of the ongoing carnage in the Retail Sector and focus on one of the biggest losers there, Sears Holdings $SHLD. We also provide a link to download a FREE STOCK REPORT on the company
VALUATION: Overvalued stocks now make up 58.69% of our stocks assigned a valuation and 23.01% of those equities are calculated to be overvalued by 20% or more. Thirteen sectors are calculated to be overvalued.
To subscribe to our bulletins and receive content whenever it is published, subscribe at our blog HERE
Sears Holdings Corporation (SHLD), the parent of Kmart and Sears, Roebuck and Co., is the leading home appliance retailer in North America and is a retail sales leader in tools, lawn and garden, home electronics, and automotive repair and maintenance. Key proprietary brands include Kenmore, Craftsman and DieHard, and a broad apparel offering, including such well-known labels as Lands' End, Jaclyn Smith and Joe Boxer, as well as the Apostrophe and Covington brands.
Today, we find still more bad news for the retail sector, and especially, one of the worst performers in that sector, Sears Holdings. The company announced late last week that it would be closing an additional 43 stores–eight Sears locations and 35 K-Marts. This is on top of the 150 stores the company announced would be closed back in January. At that time, Sears stated that they wanted to cut costs by at least $1 billion in 2017.
Company CEO Eddie Lampert noted on his blog that the newly announced closing were "part of a strategy both to address losses from unprofitable stores and to reduce the square footage of other stores because many of them are simply too big for our current needs."
Lampert went on to note that smaller stores were a key part of his strategy and that
the smaller store concept allows us to focus on some of our stronger categories, complemented with our Shop Your Way membership program, home services and credit offerings. We expect to introduce additional smaller, specialized concept stores in the upcoming quarters while simultaneously reducing the number and/or the size of larger-format, less competitive stores.
Sears is somewhat of a poster child for the troubles in retail throughout the US market. Large brick and mortar retailers are under intense pressure from the internet giants like Amazon. Dying malls, changes in consumer behavior, a perceived lack of "hipness" on the part of old-line retailers such as Sears and JCPenneys, have all damaged the business.
But, Sears also demonstrates the folly of putting radical right-wing political ideologies in play at the hands of a CEO who thinks his personal ideology equals reality. Sears wasted a lot of time playing "Darwinist" games amongst its many branches while Amazon, Wal-Mart and other firms with large online sales divisions ate its lunch.
When Lampert made headlines for merging K-Mart and Sears, the latter had a value of $11 billion and more than 3500 stores. Now, the company is a "dead man walking," reduced in size with the real estate worth more than the business. Lampert wrecked one of the greatest corporations in history. Indeed, it is hard to take a US history class without learning about the role of the Sears catalog and the development of US consumer culture.
Far from a genius, Lampert has been criticized for being a micro manager, for being too focused on data rather than "hipper" competitors like Target and H&M, for forcing employees to function as rubber stamps, and for being to sure of himself even when things began to turn south. Many analysts now consider Lampert to be the worst CEO in the country.
Of course, as you can see from the long-term rating chart below, our models have been down on Sears for years now. And little has changed from the last time we discussed these issues with the company and Lambert. He is a disaster for his company, his workers, and investors. Thus, the company remains a STRONG SELL.
Below is our latest data for Sears Holdings (SHLD):
ValuEngine continues its STRONG SELL recommendation on Sears Holdings for 2017-07-07. Based on the information we have gathered and our resulting research, we feel that Sears Holdings has the probability to UNDERPERFORM average market performance for the next year. The company exhibits UNATTRACTIVE P/E Ratio and Earnings Growth Rate.
You can download a free copy of detailed report on Sears Holdings (SHLD) from the link below.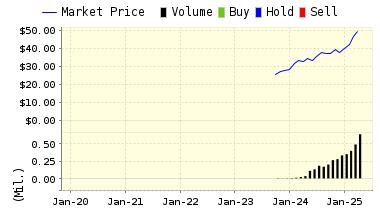 ValuEngine Forecast
Target
Price*
Expected
Return
1-Month
7.69
-1.14%
3-Month
7.69
-1.16%
6-Month
7.36
-5.45%
1-Year
6.72
-13.64%
2-Year
6.32
-18.79%
3-Year
5.86
-24.63%
Valuation & Rankings
Valuation
n/a
Valuation Rank(?)
n/a
1-M Forecast Return
-1.14%
1-M Forecast Return Rank
3
12-M Return
-41.94%
Momentum Rank(?)
10
Sharpe Ratio
-0.62
Sharpe Ratio Rank(?)
13
5-Y Avg Annual Return
-38.16%
5-Y Avg Annual Rtn Rank
15
Volatility
61.31%
Volatility Rank(?)
27
Expected EPS Growth
-27.56%
EPS Growth Rank(?)
7
Market Cap (billions)
0.83
Size Rank
60
Trailing P/E Ratio
n/a
Trailing P/E Rank(?)
4
Forward P/E Ratio
n/a
Forward P/E Ratio Rank
n/a
PEG Ratio
n/a
PEG Ratio Rank
n/a
Price/Sales
0.04
Price/Sales Rank(?)
99
Market/Book
n/a
Market/Book Rank(?)
n/a
Beta
1.62
Beta Rank
17
Alpha
-0.66
Alpha Rank
6
DOWNLOAD A FREE SAMPLE OF OUR SEARS HOLDINGS (SHLD) REPORT BY CLICKING HERE
ValuEngine.com is an Independent Research Provider (IRP), producing buy/hold/sell recommendations, target price, and valuations on over 5,000 US and Canadian equities every trading day.
Contact ValuEngine at (800) 381-5576 or support@valuengine.com  
Visit www.ValuEngine.com for more information
ValuEngine Capital Management LLC is a Registered Investment Advisory (RIA) firm that trades client accounts using ValuEngine's award-winning stock research.
Contact ValuEngine Capital at info@valuenginecapital.com
Visit www.ValuEngineCapital.com for more information