For today's bulletin, we take a look at our latest upgrades and focus on retailer Dick's Sporting Goods $DKS and provide a link to download a FREE STOCK REPORT on the company
VALUATION: Overvalued stocks now make up 58.39% of our stocks assigned a valuation and 22.75% of those equities are calculated to be overvalued by 20% or more. Thirteen sectors are calculated to be overvalued.
To subscribe to our bulletins and receive content whenever it is published, subscribe at our blog HERE
For today's edition of our upgrade list, we used our website's advanced screening functions to search for UPGRADES to BUY or STRONG BUY with complete forecast and valuation data. They are presented by one-month forecast return. Voya Financial (VOYA) ) is our top-rated upgrade this week and it is a STRONG BUY. The other picks this week are BUY-rated stocks. CVR Energy (CVR) is also a STRONG BUY but does not include full data so it is included as a courtesy.
| | | | | | | | | |
| --- | --- | --- | --- | --- | --- | --- | --- | --- |
| Ticker | Company Name | Market Price | Valuation | Last 12-M Return | 1-M Forecast Return | 1-Yr Forecast Return | P/E Ratio | Sector Name |
| CVI | CVR ENERGY INC | 22.76 | N/A | 57.95% | 1.11% | 13.30% | 11.92 | Oils-Energy |
| VOYA | VOYA FINANCIAL | 37.23 | 0.23% | 53.08% | 1.09% | 13.09% | 12.66 | Finance |
| MRTN | MARTEN TRANS | 16.25 | -13.92% | N/A | 0.60% | 7.22% | 16.09 | Transportation |
| HTBK | HERITAGE COMMRC | 13.89 | 2.97% | 34.85% | 0.52% | 6.25% | 18.77 | Finance |
| DKS | DICKS SPRTG GDS | 37.02 | -27.72% | -23.62% | 0.50% | 6.01% | 11.20 | Retail-Wholesale |
For today's bulletin, we take a look at one of our newest BUY stocks, Dick's Sporting Goods (DKS). Dick's Sporting Goods, Inc. is an omni-channel sporting goods retailer offering an assortment of sports equipment, apparel, footwear and accessories in its specialty retail stores primarily in the eastern United States. The Company also owns and operates Golf Galaxy, Field & Stream and other specialty concept stores, and Dick's Team Sports HQ, an all-in-one youth sports digital platform offering free league management services, mobile applications for scheduling, communications and live scorekeeping, custom uniforms and FanWear and access to donations and sponsorships. The Company offers its products through a content-rich e-commerce platform that is integrated with its store network and provides customers with the convenience and expertise of a 24-hour storefront. It offers products to its customers through its retail stores and online. The Company offers hardlines, which include items, such as sporting goods equipment, fitness equipment, golf equipment, and hunting and fishing gear.
We've focused on bad news for retailers lately, but today we see that Dick's is one retailer upgraded by our models. Their last earnings proved a disappointment for investors, and they reacted badly with the stock declining by almost 19% in May. At that time, investors found the company's quarterly revenue growth of 10% and their 2.4% increase in same-store sales disappointing.
However, Dick's is still reporting positive results–unlike so many in the sector. The company looks strong relative to others and it has even been mentioned as a potential takeover target by the "elephant in the room" of the retail sector, Amazon.com. The stock is also trading below its 50-day moving average. Dick's is currently scheduled to release their Q2 2017 earnings on August 14th.
Below is our latest data for Dick's Sporting Goods (DKS):
ValuEngine updated its recommendation from HOLD to BUY for Dick's Sporting Goods on 2017-07-10. Based on the information we have gathered and our resulting research, we feel that Dick's Sporting Goods has the probability to OUTPERFORM average market performance for the next year. The company exhibits ATTRACTIVE P/E Ratio and Price Sales Ratio.
You can download a free copy of detailed report on Dick's Sporting Goods (DKS) from the link below.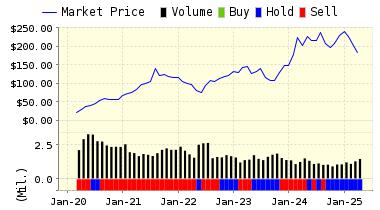 ValuEngine Forecast
Target
Price*
Expected
Return
1-Month
37.21
0.50%
3-Month
37.07
0.14%
6-Month
36.00
-2.75%
1-Year
39.25
6.01%
2-Year
35.57
-3.92%
3-Year
35.42
-4.33%
Valuation & Rankings
Valuation
27.72% undervalued
Valuation Rank(?)
86
1-M Forecast Return
0.50%
1-M Forecast Return Rank
85
12-M Return
-23.62%
Momentum Rank(?)
18
Sharpe Ratio
-0.14
Sharpe Ratio Rank(?)
35
5-Y Avg Annual Return
-3.73%
5-Y Avg Annual Rtn Rank
36
Volatility
25.95%
Volatility Rank(?)
59
Expected EPS Growth
16.23%
EPS Growth Rank(?)
51
Market Cap (billions)
4.43
Size Rank
81
Trailing P/E Ratio
11.20
Trailing P/E Rank(?)
90
Forward P/E Ratio
9.63
Forward P/E Ratio Rank
86
PEG Ratio
0.69
PEG Ratio Rank
53
Price/Sales
0.55
Price/Sales Rank(?)
83
Market/Book
2.81
Market/Book Rank(?)
42
Beta
0.48
Beta Rank
63
Alpha
-0.19
Alpha Rank
23
DOWNLOAD A FREE SAMPLE OF OUR DICKS SPORTING GOODS (DKS) REPORT BY CLICKING HERE
ValuEngine.com is an Independent Research Provider (IRP), producing buy/hold/sell recommendations, target price, and valuations on over 5,000 US and Canadian equities every trading day.
Contact ValuEngine at (800) 381-5576 or support@valuengine.com  
Visit www.ValuEngine.com for more information
ValuEngine Capital Management LLC is a Registered Investment Advisory (RIA) firm that trades client accounts using ValuEngine's award-winning stock research.
Contact ValuEngine Capital at info@valuenginecapital.com
Visit www.ValuEngineCapital.com for more information