For today's bulletin, we take a look at Planet Fitness $PLNT and provide a link to download a copy of our latest stock report at the fitness center chain.
VALUATION WATCH: Overvalued stocks now make up 30% of our stocks assigned a valuation and 10.44% of those equities are calculated to be overvalued by 20% or more. One sector is calculated to be overvalued.

Planet Fitness, Inc. (PLNT) franchises and operates fitness centers through its subsidiaries. The company's operating segments consists of Franchise, Corporate-owned stores and Equipment. It is engaged in licensing and selling franchises under the Planet Fitness trade name, owning and operating fitness centers under the Planet Fitness trade name and selling fitness-related equipment to franchisee-owned stores. Planet Fitness, Inc. is headquartered in Newington, New Hampshire.
Want to learn more about ValuEngine? Our methods? Our history?
Check out our video presentation HERE.
Planet Fitness is one of the nationwide gyms about to enter its busy season, the time of year when so-called "resolutionaries" invade its fitness facilities to work off those holiday pounds and get ready for next Summer's bathing-suit. While those "resolutionaries" are the bane of regular gym-goers everywhere, what will be the effect on the firm's bottom line?
Many hedge funds are betting on the firm, with big players such as Scopus Asset Management, Marshall Wace, Renaissance Technologies, and Daruma Asset Management holding significant stakes in the company. Like many investors, they have a positive view of the company's potential due its long streak–47 consecutive quarters–of positive same-store sales growth.
Other analysts note that while the firm currently has @1600 locations nationwide, it has room to grow. They estimate that the firm could build up to a total of 4000 locations without cannibalizing their market.
Recent earnings results were also good. Back in November, the company reported that system wide same-store sales in Q3 increased 9.7% on top of a 9.3% gain a year ago. Adjusted net income per diluted share grew 47% to $0.28 compared to $0.19 in the prior year period. The chain continued to add new gym members, with 12.2 million members vs 10.5 million for Q3 2017.
At that time, CEO Chris Rondeau noted that
I'm extremely pleased with [Planet Fitness'] consistently strong financial performance today, I'm even more excited about the bright future ahead and the many opportunities for continued growth. Industry trends continue to be positive and more and more people strive to achieve healthier lifestyles. In fact, a recent national study published in October showed that not exercising is riskier to health than smoking, diabetes and heart disease. Heightened awareness of the importance of healthy lifestyle for your physical and emotional health will continue to benefit our industry and we are well positioned to capture additional share of the existing market and attract new market entrants, thanks to our welcoming nonintimidating environment and affordable price point.
VALUENGINE RECOMMENDATION: ValuEngine continues its STRONG BUY recommendation on PLANET FITNESS for 2018-12-07. Based on the information we have gathered and our resulting research, we feel that PLANET FITNESS has the probability to OUTPERFORM average market performance for the next year. The company exhibits ATTRACTIVE Sharpe Ratio and Momentum.
You can download a free copy of our summary report on Planet Fitness, Inc. (PLNT) from the link below.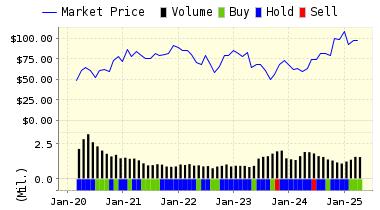 ValuEngine Forecast
Target
Price*
Expected
Return
1-Month
53.96
0.93%
3-Month
54.75
2.42%
6-Month
56.53
5.75%
1-Year
59.45
11.21%
2-Year
60.98
14.06%
3-Year
62.18
16.31%
Valuation & Rankings
Valuation
25.09% overvalued
Valuation Rank(?)
9
1-M Forecast Return
0.93%
1-M Forecast Return Rank
97
12-M Return
65.59%
Momentum Rank(?)
97
Sharpe Ratio
1.40
Sharpe Ratio Rank(?)
100
5-Y Avg Annual Return
34.82%
5-Y Avg Annual Rtn Rank
98
Volatility
24.82%
Volatility Rank(?)
59
Expected EPS Growth
16.90%
EPS Growth Rank(?)
53
Market Cap (billions)
1.96
Size Rank
71
Trailing P/E Ratio
45.18
Trailing P/E Rank(?)
36
Forward P/E Ratio
38.65
Forward P/E Ratio Rank
8
PEG Ratio
2.67
PEG Ratio Rank
14
Price/Sales
3.67
Price/Sales Rank(?)
26
Market/Book
n/a
Market/Book Rank(?)
n/a
Beta
0.67
Beta Rank
56
Alpha
0.51
Alpha Rank
96
DOWNLOAD A FREE SAMPLE OF OUR PLANET FITNESS (PLNT) REPORT BY CLICKING HERE
ValuEngine.com is an Independent Research Provider (IRP), producing buy/hold/sell recommendations, target price, and valuations on over 5,000 US and Canadian equities every trading day.
Contact ValuEngine at (321) 325-0519 or support@valuengine.com  
Visit www.ValuEngine.com for more information
ValuEngine Capital Management LLC is a Registered Investment Advisory (RIA) firm that trades client accounts using ValuEngine's award-winning stock research.
Contact ValuEngine Capital at info@valuenginecapital.com
Visit www.ValuEngineCapital.com for more information
Steve Hach
Senior Editor
ValuEngine.Com