For today's bulletin, we take a look at our latest STRONG BUY and BUY upgrades. We also provide a link to download a FREE STOCK REPORT on Brightcove $BCOV, one of our top upgrades for the day.
VALUATION WATCH: Overvalued stocks now make up 28.93% of our stocks assigned a valuation and 10.27% of those equities are calculated to be overvalued by 20% or more. One sector is calculated to be overvalued.

For today's edition of our upgrade list, we used our website's advanced screening functions to search for UPGRADES to BUY or STRONG BUY with complete forecast and valuation data. They are presented by one-month forecast return. There were no STRONG BUY upgrades. Today, every component of our top-five list is a BUY upgrade.
| | | | | | | | | |
| --- | --- | --- | --- | --- | --- | --- | --- | --- |
| Ticker | Company Name | Market Price | Valuation | Last 12-M Return | 1-M Forecast Return | 1-Yr Forecast Return | P/E Ratio | Sector Name |
| BCOV | BRIGHTCOVE | 7.29 | -6.15% | 4.89% | 0.54% | 6.43% | N/A | Computer and Technology |
| CORT | CORCEPT THERAPT | 17.17 | 6.21% | 0.82% | 0.68% | 8.17% | 29.10 | Medical |
| MBRX | MOLECULIN BIOTC | 1.46 | -10.64% | N/A | 0.59% | 7.06% | N/A | Medical |
| NHI | NATL HEALTH INV | 80.86 | 11.41% | 3.03% | 0.50% | 6.03% | 14.70 | Finance |
| VNOM | VIPER ENERGY | 29.57 | 3.73% | 35.77% | 0.55% | 6.60% | 26.01 | Oils-Energy |
Want to learn more about ValuEngine? Our methods? Our history?
Check out our video presentation HERE
Brightcove Inc. (BCOV) is engaged in providing cloud content services for publishing and distributing professional digital media. Its products include Brightcove Video Cloud, an online video platform and Brightcove App Cloud, a software application development and management platform. The Company provides its solutions to media, retail, technology, financial services companies, governments, educational institutions, and non-profit organizations in North America, Europe, and the Asia Pacific. Brightcove Inc. is headquartered in Cambridge, Massachusetts.
Monetizing online video content has been the "holy grail" for many firms. Today, we focus on one of the players, Brightcove. This firm provides cloud video services to a variety of clients. Recent results were generally showing a positive trend, even if the company still took a loss.
Revenue for the third quarter of 2018 was $41.1 million, an increase of 4% compared to $39.5 million for the third quarter of 2017. Subscription and support revenue was $37.4 million, compared to $36.5 million for the third quarter of 2017. Gross profit for the third quarter of 2018 was $24.8 million, representing a gross margin of 60% compared to a gross profit of $23.0 million for the third quarter of 2017. Non-GAAP gross profit for the third quarter of 2018 was $25.4 million, representing a non-GAAP gross margin of 62%, compared to a non-GAAP gross profit of $23.7 million for the third quarter of 2017. Net loss was $3.5 million, or $0.10 per diluted share, for the third quarter of 2018. This compares to a net loss of $5.4 million, or $0.16 per diluted share, for the third quarter of 2017.
CEO Jeff Ray noted the following when discussing the Q3 2018 results last month:
Brightcove made continued progress in the third quarter on the strategic priorities that we believe will return the company to strong levels of consistent growth and profitability. In the near-term, the positive changes we are making to our product development, demand generation and go-to-market efforts caused some modest disruption to sales. We have completed a thorough review of our end markets and identified several sub-segments that are all exhibiting strong growth and an increased interest in deploying video to drive better business performance. We are now tightly aligning our product, demand generation and sales efforts in these areas. We are confident our strategy will deliver meaningfully improved financial results and generate significant value for shareholders.
Of course, you don't always find the "holy grail," but for businesses and a variety of clients, cloud video is definitely here to stay. Our models currently find that Brightcove is on the right track.
ValuEngine updated its recommendation from HOLD to BUY for BRIGHTCOVE on 2018-12-11. Based on the information we have gathered and our resulting research, we feel that BRIGHTCOVE has the probability to OUTPERFORM average market performance for the next year. The company exhibits ATTRACTIVE Momentum and Earnings Growth Rate.
You can download a free copy of detailed report on Brightcove Inc. (BCOV) from the link below.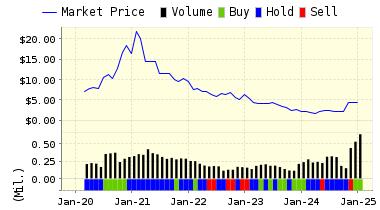 ValuEngine Forecast
Target
Price*
Expected
Return
1-Month
7.33
0.54%
3-Month
7.36
0.99%
6-Month
7.51
3.00%
1-Year
7.76
6.43%
2-Year
7.07
-2.99%
3-Year
6.49
-10.98%
Valuation & Rankings
Valuation
6.15% undervalued
Valuation Rank(?)
39
1-M Forecast Return
0.54%
1-M Forecast Return Rank
87
12-M Return
4.89%
Momentum Rank(?)
77
Sharpe Ratio
-0.26
Sharpe Ratio Rank(?)
34
5-Y Avg Annual Return
-13.68%
5-Y Avg Annual Rtn Rank
29
Volatility
52.35%
Volatility Rank(?)
31
Expected EPS Growth
24.14%
EPS Growth Rank(?)
62
Market Cap (billions)
0.24
Size Rank
43
Trailing P/E Ratio
n/a
Trailing P/E Rank(?)
24
Forward P/E Ratio
n/a
Forward P/E Ratio Rank
n/a
PEG Ratio
1.04
PEG Ratio Rank
38
Price/Sales
1.43
Price/Sales Rank(?)
54
Market/Book
16.66
Market/Book Rank(?)
8
Beta
1.18
Beta Rank
29
Alpha
-0.08
Alpha Rank
50
DOWNLOAD A FREE SAMPLE OF OUR BRIGHTCOVE (BCOV) REPORT BY CLICKING HERE
ValuEngine.com is an Independent Research Provider (IRP), producing buy/hold/sell recommendations, target price, and valuations on over 5,000 US and Canadian equities every trading day.
Contact ValuEngine at (321) 325-0519 or support@valuengine.com  
Visit www.ValuEngine.com for more information
ValuEngine Capital Management LLC is a Registered Investment Advisory (RIA) firm that trades client accounts using ValuEngine's award-winning stock research.
Contact ValuEngine Capital at info@valuenginecapital.com
Visit www.ValuEngineCapital.com for more information
Steve Hach
Senior Editor
ValuEngine.Com