For today's bulletin, we take a look at Sears Holdings $SHLD. We also provide a link to download a FREE STOCK REPORT on the company.
NASDAQ:SHLD
VALUATION WATCH: Overvalued stocks now make up 51.43% of our stocks assigned a valuation and 19.9% of those equities are calculated to be overvalued by 20% or more. Eleven sectors are calculated to be overvalued.
Sears Holdings Corporation (SHLD), the parent of Kmart and Sears, Roebuck and Co., is the leading home appliance retailer in North America and is a retail sales leader in tools, lawn and garden, home electronics, and automotive repair and maintenance. Key proprietary brands include Kenmore, Craftsman and DieHard, and a broad apparel offering, including such well-known labels as Lands' End, Jaclyn Smith and Joe Boxer, as well as the Apostrophe and Covington brands.
Want to learn more about ValuEngine? Our methods? Our history?
Check out our video presentation HERE
Yet again a retail story today, and one we have been tracking for years. The sad saga of Sears Holdings, once one of America's premiere companies, appears to be entering its finals stages. This venerable company, the story of whose famous catalog is taught in numerous history courses throughout the United States, is in the news once more.
It now appears that CEO Eddie Lampert, widely acknowledged to be the one who has hastened the demise of this company, is now asking that he be allowed to purchase various assets of Sears in an effort to infuse cash and stave off bankruptcy.
Lampert proposes to buy the firm's home improvement business, its parts business, and perhaps Kenmore. He is also willing to buy the real estate upon which Sears' retail outlets are built.
Of course, these pieces are the ones that still hold value. And Lampert is proposing that his hedge fund get these valuable pieces while leaving the failing brick and mortar stores and the rest behind. He proposes this plan after a period in which no other buyers were located for the various key assets.
Over the past few years, the split of the company has already made some progress as deals were struck with Amazon, Black and Decker, and other firms for Sears crown jewels–such as Die Hard batteries and Craftsman tools. The remaining Kenmore brand retains a good reputation–even though Sears doesn't really manufacturer these appliances any more, they are re-branded Whirlpools and Electrolux machines.
The irony here is that Lampert is the one who hastened the demise of Sears as a flagship American retailer with his Randian/Darwinian management theories and his wrong-headed management "strategy." Now, he proposes to walk away with the remaining crown jewels. A sad story, indeed.
We have been down on Sears for years now. We have documented this story over time and tracked the stock shares as they have declined from $30 to, now, $3/share. While investors did react positively to the news of this potential cash infusion, clearly what will happen here–if it goes through–will only be a delay of the inevitable.
ValuEngine continues its SELL recommendation on Sears Holdings Corporation for 2018-04-20. Based on the information we have gathered and our resulting research, we feel that Sears Holdings Corporation has the probability to UNDERPERFORM average market performance for the next year. The company exhibits UNATTRACTIVE P/E Ratio and Earnings Growth Rate.
You can download a free copy of detailed report on Sears Holdings Corporation (SHLD) from the link below.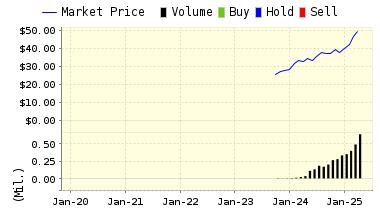 ValuEngine Forecast
Target
Price*
Expected
Return
1-Month
2.99
-0.60%
3-Month
2.97
-1.39%
6-Month
2.98
-0.90%
1-Year
2.79
-7.21%
2-Year
2.45
-18.50%
3-Year
2.11
-29.94%
Valuation & Rankings
Valuation
n/a
Valuation Rank(?)
n/a
1-M Forecast Return
-0.60%
1-M Forecast Return Rank
13
12-M Return
n/a
Momentum Rank(?)
n/a
Sharpe Ratio
-0.96
Sharpe Ratio Rank(?)
7
5-Y Avg Annual Return
-58.59%
5-Y Avg Annual Rtn Rank
9
Volatility
61.30%
Volatility Rank(?)
27
Expected EPS Growth
-27.56%
EPS Growth Rank(?)
7
Market Cap (billions)
0.32
Size Rank
46
Trailing P/E Ratio
n/a
Trailing P/E Rank(?)
1
Forward P/E Ratio
n/a
Forward P/E Ratio Rank
n/a
PEG Ratio
n/a
PEG Ratio Rank
n/a
Price/Sales
0.02
Price/Sales Rank(?)
100
Market/Book
n/a
Market/Book Rank(?)
n/a
Beta
0.76
Beta Rank
51
Alpha
n/a
Alpha Rank
n/a
DOWNLOAD A FREE SAMPLE OF OUR SEARS HOLDINGS (SHLD) REPORT BY CLICKING HERE
ValuEngine.com is an Independent Research Provider (IRP), producing buy/hold/sell recommendations, target price, and valuations on over 5,000 US and Canadian equities every trading day.
Contact ValuEngine at (800) 381-5576 or support@valuengine.com  
Visit www.ValuEngine.com for more information
ValuEngine Capital Management LLC is a Registered Investment Advisory (RIA) firm that trades client accounts using ValuEngine's award-winning stock research.
Contact ValuEngine Capital at info@valuenginecapital.com
Visit www.ValuEngineCapital.com for more information
Steve Hach
Senior Editor
ValuEngine.Com