For today's bulletin, we take a look at Southwest Airlines $LUV. We also provide a link to download a FREE STOCK REPORT on the company.
NYSE:LUV;
VALUATION WATCH: Overvalued stocks now make up 51.11% of our stocks assigned a valuation and 18.97% of those equities are calculated to be overvalued by 20% or more. Eleven sectors are calculated to be overvalued.
Southwest Airlines (NYSE:LUV) is a major domestic airline headquartered in Dallas, Texas. The company provides primarily shorthaul, high-frequency, point-to-point, low-fare service. Southwest operates over Boeing 737 aircraft in numerous cities. Southwest has the lowest operating cost structure in the domestic airline industry and consistently offers the lowest and simplest fares. Southwest also has one of the best overall Customer Service records.
Want to learn more about ValuEngine? Our methods? Our history?
Check out our video presentation HERE
Last week, we discussed GE and their issues in the aftermath of the Southwest Airlines in-flight emergency where a GE CFM engine blew up mid-flight causing a cabin depressurization and a passenger fatality. Today, we take a look at the airline itself and its reponse to the incident and subsequent tragedy.
As long-time readers know, we are generally big fans of Southwest. As airlines go it runs a different business model that can be baffling for some, but tends to inspire intense loyalty in customers AND employees. This is a rare combination where commercial aviation is concerned these days. Because of its unique position within the industry, Southwest often avoids the labor issues and bad customer PR suffered by competitors.
Today's Wall Street Journal has an article that once again demonstrates that Southwest remains a powerhouse in the area of customer relations despite the departure of founder and long-time CEO Herb Kelleher several years ago.
Southwest responded to the in-flight incident with candor and speed and they did so in a manner which comforted traumatized customers. We didn't see any sort of BP oil spill "we're sorry" fake apologies here, we saw a company with a well-honed crisis response team that comforted and assisted traumatized passengers, pre-emptively reached out to regulators, and knocked down any potential bad press before it could start.
The article details the fact that Southwest reached out to passengers with monetary compensation, crisis counseling, and victim assistance– to the family of the passenger who died– within hours of the tragedy. Most importantly, these humanitarian acts were implemented without legal forms or releases. Unlike some big corporations, Southwest did NOT attach "strings" to their offers of help.
It should not be surprising to see a large corporation acting "correct" and doing right by its customers after a tragedy, but unfortunately not every airline seems capable of doing the relatively "easy"–and cheap!–things that Southwest did in this case. From what we see in the WSJ today, Southwest has provided a textbook example of proper crisis management. Other CEOs should take note.
Of course, our models cannot respond to inputs such as a properly-handled crisis. But we take this latest news as further evidence that when one looks at airlines, the management does matter and Southwest has a team that values customers and is capable of handling the most potentially-harmful aspects of their business.
ValuEngine continues its HOLD recommendation on Southwest Airlines for 2018-04-24. Based on the information we have gathered and our resulting research, we feel that Southwest Airlines has the probability to ROUGHLY MATCH average market performance for the next year. The company exhibits ATTRACTIVE Company Size but UNATTRACTIVE Momentum.
You can download a free copy of detailed report on Southwest Airlines (LUV) from the link below.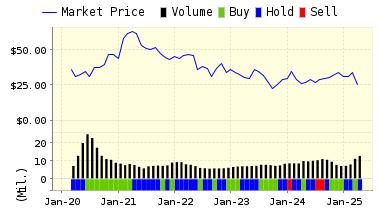 ValuEngine Forecast
Target
Price*
Expected
Return
1-Month
53.83
-0.09%
3-Month
53.84
-0.08%
6-Month
52.90
-1.82%
1-Year
53.33
-1.03%
2-Year
55.01
2.11%
3-Year
57.37
6.48%
Valuation & Rankings
Valuation
6.32% undervalued
Valuation Rank(?)
65
1-M Forecast Return
-0.09%
1-M Forecast Return Rank
42
12-M Return
-4.62%
Momentum Rank(?)
30
Sharpe Ratio
1.06
Sharpe Ratio Rank(?)
94
5-Y Avg Annual Return
28.93%
5-Y Avg Annual Rtn Rank
94
Volatility
27.24%
Volatility Rank(?)
55
Expected EPS Growth
41.76%
EPS Growth Rank(?)
69
Market Cap (billions)
36.57
Size Rank
97
Trailing P/E Ratio
14.80
Trailing P/E Rank(?)
78
Forward P/E Ratio
10.44
Forward P/E Ratio Rank
79
PEG Ratio
0.35
PEG Ratio Rank
67
Price/Sales
1.73
Price/Sales Rank(?)
54
Market/Book
3.87
Market/Book Rank(?)
34
Beta
1.10
Beta Rank
31
Alpha
-0.06
Alpha Rank
42
DOWNLOAD A FREE SAMPLE OF OUR SOUTHWEST AIRLINES (LUV) REPORT BY CLICKING HERE
ValuEngine.com is an Independent Research Provider (IRP), producing buy/hold/sell recommendations, target price, and valuations on over 5,000 US and Canadian equities every trading day.
Contact ValuEngine at (800) 381-5576 or support@valuengine.com  
Visit www.ValuEngine.com for more information
ValuEngine Capital Management LLC is a Registered Investment Advisory (RIA) firm that trades client accounts using ValuEngine's award-winning stock research.
Contact ValuEngine Capital at info@valuenginecapital.com
Visit www.ValuEngineCapital.com for more information
Steve Hach
Senior Editor
ValuEngine.Com