For today's bulletin, we take a look at retailer TJX Companies. We also provide a link to download a FREE STOCK REPORT on the company.
VALUATION WATCH: Overvalued stocks now make up 57.39% of our stocks assigned a valuation and 22.3% of those equities are calculated to be overvalued by 20% or more. Twelve sectors are calculated to be overvalued.
We are keeping our focus on the retail sector today with another earnings report from one of the mainstays of the discount retail industry, The TJX Companies, Inc.(TJX). TJX is the leading off-price retailer of apparel and home fashions in the U.S. and worldwide. The Company operates T.J. Maxx, Marshalls, and HomeGoods stores in the United States, Winners, HomeSense, Marshalls, and STYLESENSE stores in Canada, and T.K. Maxx and HomeSense stores in Europe. The TJX Companies, Inc. is headquartered in Framingham, Massachusetts.
Today, TJX reported their Q3 FY2018 results and we see more evidence of trouble in the sector, even for the low-cost outlets like the firm's TJMaxx and Marshalls brick-and-mortar retailers.
Net sales for the third quarter of Fiscal 2018 increased 6% to $8.8 billion and consolidated comparable store sales were flat compared to last year's 5% increase. Net income for the third quarter was $641 million. Diluted earnings per share were $1.00, a 20% increase over the prior year's GAAP EPS of $.83 and a 10% increase over the prior year's adjusted EPS of $.91, which excludes the combined $.08 impact of last year's debt extinguishment charge and pension settlement charge.
Analysts had expected better sales figures and had predicted an increase in same-store sales only to see flat sales for Q3. Analysts had also expected revenue of @$8.86 billion, but the firm missed that number as well.
Company CEO and President Ernie Herrman had a variety of explanations for the somewhat disappointing results and noted the following:
the hurricanes had a negative impact during the quarter. Our greatest concern is the well-being of our Associates, their families, our customers and everyone affected by these natural disasters, and our hearts go out to the people who have been impacted. Additionally, we believe that warmer temperatures in the U.S. during the quarter dampened demand for apparel at our Marmaxx division. While sales were not as strong as we would have liked, we were pleased that sales trends at Marmaxx improved as the weather turned more seasonable. Further, customer traffic, or transactions, were strong and up at every major division. Importantly, our consolidated merchandise margin increased, which we believe speaks to the flexibility of our off-price business model. Overall, our organization sharply executed our off-price fundamentals of opportunistic buying, lean inventory discipline, and being strategic and targeted in the flow of merchandise to our stores, which helped drive margins.
Once again, we see that retailers are struggling to come to terms with changes across the sector. Despite the ongoing economic recovery, this is the first time in eight years that TJX did not report a gain in same-store sales. Their stock has paid the price this year, and is down @4.5% today. This is on top of a decline of @5.8% for the year so far. TJX had avoided a lot of the carnage up to this point, but today's results may indicate that some cracks may finally be showing. Or not, perhaps the weather and hurricane explanations are valid and the firm will snap back next quarter.
ValuEngine continues its HOLD recommendation on TJX COS INC NEW for 2017-11-13. Based on the information we have gathered and our resulting research, we feel that TJX COS INC NEW has the probability to ROUGHLY MATCH average market performance for the next year. The company exhibits ATTRACTIVE Company Size but UNATTRACTIVE Book Market Ratio.
You can download a free copy of detailed report on The TJX Companies, Inc.(TJX) from the link below.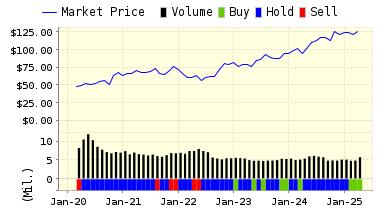 ValuEngine Forecast
Target
Price*
Expected
Return
1-Month
70.67
-0.13%
3-Month
70.44
-0.45%
6-Month
69.26
-2.12%
1-Year
69.66
-1.55%
2-Year
68.66
-2.96%
3-Year
69.91
-1.20%
Valuation & Rankings
Valuation
7.81% undervalued
Valuation Rank(?)
69
1-M Forecast Return
-0.13%
1-M Forecast Return Rank
40
12-M Return
-4.66%
Momentum Rank(?)
30
Sharpe Ratio
0.68
Sharpe Ratio Rank(?)
80
5-Y Avg Annual Return
10.34%
5-Y Avg Annual Rtn Rank
69
Volatility
15.11%
Volatility Rank(?)
79
Expected EPS Growth
14.32%
EPS Growth Rank(?)
48
Market Cap (billions)
48.75
Size Rank
98
Trailing P/E Ratio
19.12
Trailing P/E Rank(?)
66
Forward P/E Ratio
16.73
Forward P/E Ratio Rank
51
PEG Ratio
1.34
PEG Ratio Rank
36
Price/Sales
1.44
Price/Sales Rank(?)
59
Market/Book
11.22
Market/Book Rank(?)
13
Beta
0.70
Beta Rank
55
Alpha
-0.19
Alpha Rank
26
DOWNLOAD A FREE SAMPLE OF OUR TJX COMPANIES (TJX) REPORT BY CLICKING HERE
ValuEngine.com is an Independent Research Provider (IRP), producing buy/hold/sell recommendations, target price, and valuations on over 5,000 US and Canadian equities every trading day.
Contact ValuEngine at (800) 381-5576 or support@valuengine.com  
Visit www.ValuEngine.com for more information
ValuEngine Capital Management LLC is a Registered Investment Advisory (RIA) firm that trades client accounts using ValuEngine's award-winning stock research.
Contact ValuEngine Capital at info@valuenginecapital.com
Visit www.ValuEngineCapital.com for more information