For today's bulletin, we take a look at social media giant Facebook $FB and provide a link to download a FREE STOCK REPORT on the company.
VALUATION WATCH: Overvalued stocks now make up 47.19% of our stocks assigned a valuation and 19.2% of those equities are calculated to be overvalued by 20% or more. Eleven sectors are calculated to be overvalued.

Amazon.com, Inc. (AMZN) engages in the retail sale of consumer products and subscriptions in North America and internationally. It operates through the North America, International, and Amazon Web Services (AWS) segments. The company sells merchandise and content purchased for resale from vendors, as well as those offered by third-party sellers through retail Websites, such as amazon.com, amazon.ca, amazon.com.mx, amazon.com.au, amazon.com.br, amazon.cn, amazon.fr, amazon.de, amazon.in, amazon.it, amazon.co.jp, amazon.nl, amazon.es, and amazon.co.uk. It also manufactures and sells electronic devices, including kindle e-readers, fire tablets, fire TVs, and echo; and provides Kindle Direct Publishing, an online service that allows independent authors and publishers to make their books available in the Kindle Store.
Want to learn more about ValuEngine? Our methods? Our history?
Check out our video presentation HERE
One of the issues many analysts have had with the ongoing economic recovery in the US is the fact that it has not yet filtered down to the average worker. Wages have been flat or down for the vast majority of working people for decades now. It is tough to imagine how a modern, consumer-based economy thrives when workers are increasingly unable to find employment that pays the rent, the bills, the student loans, etc–eg a job that pays a "living wage."
Labor activists have conducted a variety of campaigns against large employers advocating for a living wage– typically set at $15/hour– in the US. Employers such as McDonalds and other fast food companies have been targets, as has the largest employer in the US, Wal-Mart.
Another target of labor activists has been the retail giant, Amazon. For years the company has been targeted not only for failing to pay sales taxes to states, but for poor labor conditions in its warehouses, mistreatment of delivery drivers, poor pay to full-time workers, and other issues.
The company has become the latest target to respond in a positive manner to the pressure and has announced that as of November 1, they will raise the minimum wage for all US workers to $15/hour. In addition, they will boost the pay of hourly workers already at the $15/hour level by giving them a raise.
The timing of this raise should provide additional benefits for the firm–other than the PR splash and the gratitude of politicians such as Bernie Sanders–who has long been an advocate for a living wage and the "push for fifteen" in the US. Sanders was pleased by this move and said that what [Amazon CEO] "Bezos has done today is not only enormously important for Amazon's hundreds of thousands of employees, it could well be a shot heard around the world. I urge corporate leaders around the country to follow Mr. Bezos's lead."
As the US heads into the critical Christmas retail shopping season, Amazon has just laid down the gauntlet as other major retailers scramble for seasonal workers to meet the demand of the holidays. The higher wage should allow Amazon access to better employees and an easier time with hiring.
Also, with this move we see further evidence that perhaps finally, FINALLY, the recovery and labor market is strong enough to provide some upward pressure on wages. That is good news for workers, and we hope that the Fed will allow some benefits to accrue to labor prior to even more belt tightening via monetary policy. Clearly, "full employment" doesn't mean what it used to, and inflation remains a distant threat.
VALUENGINE RECOMMENDATION: ValuEngine continues its BUY recommendation on AMAZON.COM INC for 2018-10-02. Based on the information we have gathered and our resulting research, we feel that AMAZON.COM INC has the probability to OUTPERFORM average market performance for the next year. The company exhibits ATTRACTIVE Company Size and Momentum.
You can download a free copy of detailed report on the Amazon.com, Inc. (AMZN) from the link below.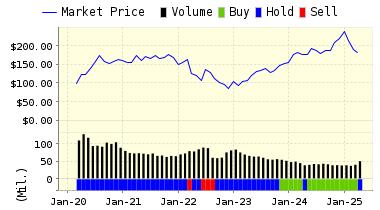 ValuEngine Forecast
Target
Price*
Expected
Return
1-Month
1,981.07
0.49%
3-Month
1,950.51
-1.06%
6-Month
1,962.01
-0.47%
1-Year
2,088.29
5.93%
2-Year
1,619.45
-17.85%
3-Year
1,424.00
-27.76%
Valuation & Rankings
Valuation
4.80% undervalued
Valuation Rank(?)
58
1-M Forecast Return
0.49%
1-M Forecast Return Rank
85
12-M Return
105.52%
Momentum Rank(?)
97
Sharpe Ratio
1.39
Sharpe Ratio Rank(?)
97
5-Y Avg Annual Return
37.15%
5-Y Avg Annual Rtn Rank
97
Volatility
26.63%
Volatility Rank(?)
55
Expected EPS Growth
64.80%
EPS Growth Rank(?)
79
Market Cap (billions)
912.74
Size Rank
100
Trailing P/E Ratio
143.37
Trailing P/E Rank(?)
32
Forward P/E Ratio
87.00
Forward P/E Ratio Rank
4
PEG Ratio
2.21
PEG Ratio Rank
18
Price/Sales
4.39
Price/Sales Rank(?)
25
Market/Book
43.36
Market/Book Rank(?)
5
Beta
1.54
Beta Rank
16
Alpha
0.51
Alpha Rank
95
DOWNLOAD A FREE SAMPLE OF OUR AMAZON (AMZN) REPORT BY CLICKING HERE
ValuEngine.com is an Independent Research Provider (IRP), producing buy/hold/sell recommendations, target price, and valuations on over 5,000 US and Canadian equities every trading day.
Contact ValuEngine at (321) 325-0519 or support@valuengine.com  
Visit www.ValuEngine.com for more information
ValuEngine Capital Management LLC is a Registered Investment Advisory (RIA) firm that trades client accounts using ValuEngine's award-winning stock research.
Contact ValuEngine Capital at info@valuenginecapital.com
Visit www.ValuEngineCapital.com for more information
Steve Hach
Senior Editor
ValuEngine.Com