EDITOR'S NOTE: We will be on a limited publication schedule later this month. Bulletins will be reduced the weeks of August 20-24 (we will publish M-W) and September 3-7 (we will publish W-F). There will be no bulletins the week of August 27-31. We will return to our normal publication schedule the week of September 10th.
For today's bulletin, we take a look at Bunge $BG and provide a link to download a FREE STOCK REPORT on the company.
VALUATION WATCH: Overvalued stocks now make up 51.29% of our stocks assigned a valuation and 21.18% of those equities are calculated to be overvalued by 20% or more. Thirteen sectors are calculated to be overvalued.

Bunge Ltd. (BG) is an integrated global agribusiness and food company spanning the farm-to-consumer food chain. Bunge processes, produces, moves, distributes and markets food on five continents.
Want to learn more about ValuEngine? Our methods? Our history?
Check out our video presentation HERE
We continue to see turmoil in global trade markets due to the latest tariffs and protectionist policies emanating from the White House. These policies have to potential to greatly harm globally-focused US-based firms as retaliatory measures are implemented.
One such giant is Bunge. They recently posted troubling numbers but asserted that they should do alright for the year thanks to some hedging with various foreign suppliers. In order to address the self-inflicted wounds here in the US for farmer, Bunge has stocked up on soybeans from foreign suppliers like Brazil, in an attempt to mitigate the effects of the agricultural tariffs.
However, our models don't like what they see with the company and we have moved to a SELL rating.
VALUENGINE RECOMMENDATION: ValuEngine continues its SELL recommendation on BUNGE LTD for 2018-08-14. Based on the information we have gathered and our resulting research, we feel that BUNGE LTD has the probability to UNDERPERFORM average market performance for the next year. The company exhibits UNATTRACTIVE Momentum and Sharpe Ratio.
You can download a free copy of detailed report on Bunge Ltd. (BG) from the link below.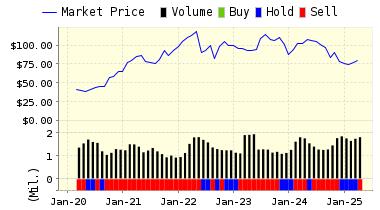 ValuEngine Forecast
Target
Price*
Expected
Return
1-Month
61.35
-0.97%
3-Month
60.95
-1.62%
6-Month
58.82
-5.05%
1-Year
54.71
-11.69%
2-Year
51.00
-17.67%
3-Year
46.96
-24.19%
Valuation & Rankings
Valuation
21.76% undervalued
Valuation Rank(?)
83
1-M Forecast Return
-0.97%
1-M Forecast Return Rank
6
12-M Return
-19.77%
Momentum Rank(?)
13
Sharpe Ratio
-0.08
Sharpe Ratio Rank(?)
39
5-Y Avg Annual Return
-1.90%
5-Y Avg Annual Rtn Rank
39
Volatility
24.38%
Volatility Rank(?)
59
Expected EPS Growth
276.43%
EPS Growth Rank(?)
95
Market Cap (billions)
8.99
Size Rank
87
Trailing P/E Ratio
31.24
Trailing P/E Rank(?)
43
Forward P/E Ratio
8.30
Forward P/E Ratio Rank
88
PEG Ratio
0.11
PEG Ratio Rank
82
Price/Sales
0.20
Price/Sales Rank(?)
94
Market/Book
1.69
Market/Book Rank(?)
61
Beta
1.11
Beta Rank
29
Alpha
-0.27
Alpha Rank
20
DOWNLOAD A FREE SAMPLE OF OUR BUNGE (BG) REPORT BY CLICKING HERE
ValuEngine.com is an Independent Research Provider (IRP), producing buy/hold/sell recommendations, target price, and valuations on over 5,000 US and Canadian equities every trading day.
Contact ValuEngine at (321) 325-0519 or support@valuengine.com  
Visit www.ValuEngine.com for more information
ValuEngine Capital Management LLC is a Registered Investment Advisory (RIA) firm that trades client accounts using ValuEngine's award-winning stock research.
Contact ValuEngine Capital at info@valuenginecapital.com
Visit www.ValuEngineCapital.com for more information
Steve Hach
Senior Editor
ValuEngine.Com