For today's bulletin, we take a look at ArcBest Corporation $ARCB. We also provide a link to download a FREE STOCK REPORT on the company.
VALUATION WATCH: Overvalued stocks now make up 52.67% of our stocks assigned a valuation and 19.87% of those equities are calculated to be overvalued by 20% or more. Eleven sectors are calculated to be overvalued.
ArcBest Corporation (ARCB) provides freight transportation services and solutions. The company's Freight Transportation segment offers transportation of general commodities; motor carrier freight transportation services; business-to-business air transportation services; ocean transport services; global customizable supply chain solutions and integrated warehousing services. Its Premium Logistics & Expedited Freight Services segment provides expedited freight transportation services to commercial and government customers; premium logistics services; and domestic and international freight transportation with air, ocean, and ground service. ArcBest Corporation, formerly known as Arkansas Best Corporation, is headquartered in Fort Smith, Arkansas.
Want to learn more about ValuEngine? Our methods? Our history?
Check out our video presentation HERE
ArcBest has been upgraded by our models to STRONG BUY. The stock has put in a nice leg up thanks to some very strong earnings results. Analysts expected a loss of $0.07/share and when the company reported last week they posted earnings of $0.37/share. That's a huge beat. Sales expectations were also exceeded handily, with the company reporting sales of $700 million vs. the expected sale for Q1 of $690.4 million.
"Strong market demand for our supply chain solutions and purposeful yield management contributed to our positive first quarter results," said Chairman, President & CEO Judy McReynolds. "We are pleased that customers are finding value in our enhanced market approach and are utilizing us as a trusted partner for more of their logistics needs."
McReynolds went on to note that
As expected, tighter capacity in first quarter resulted from the new Electronic Logging Mandate and other factors, and general economic trends were favorable. We expect these trends to continue in 2018. These positive developments, combined with ArcBest's ability to offer full supply chain solutions, create a backdrop for us to push forward with many initiatives to continue improving our customer experience. In addition, we were pleased that a tentative contract agreement between ABF and the International Brotherhood of Teamsters was reached at the end of the first quarter, allowing our employees to continue focusing on exceeding customer needs.
This news was welcomed by investors and the stock is up more than $10/share since last Thursday. ValuEngine updated its recommendation from BUY to STRONG BUY for ArcBest Corporation on 2018-05-11. Based on the information we have gathered and our resulting research, we feel that ArcBest Corporation has the probability to OUTPERFORM average market performance for the next year. The company exhibits ATTRACTIVE Momentum and Price Sales Ratio.
You can download a free copy of detailed report on ArcBest Corporation (ARCB) from the link below.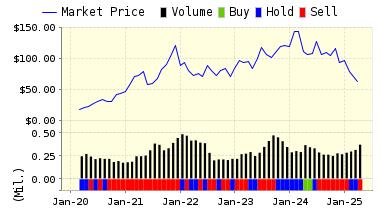 ValuEngine Forecast
Target
Price*
Expected
Return
1-Month
47.89
1.25%
3-Month
48.53
2.60%
6-Month
50.41
6.57%
1-Year
54.38
14.98%
2-Year
59.15
25.06%
3-Year
60.68
28.30%
Valuation & Rankings
Valuation
62.74% overvalued
Valuation Rank(?)
5
1-M Forecast Return
1.25%
1-M Forecast Return Rank
100
12-M Return
161.33%
Momentum Rank(?)
99
Sharpe Ratio
0.44
Sharpe Ratio Rank(?)
75
5-Y Avg Annual Return
22.33%
5-Y Avg Annual Rtn Rank
91
Volatility
51.05%
Volatility Rank(?)
32
Expected EPS Growth
22.98%
EPS Growth Rank(?)
55
Market Cap (billions)
1.23
Size Rank
64
Trailing P/E Ratio
24.34
Trailing P/E Rank(?)
52
Forward P/E Ratio
19.79
Forward P/E Ratio Rank
32
PEG Ratio
1.06
PEG Ratio Rank
35
Price/Sales
0.44
Price/Sales Rank(?)
87
Market/Book
2.62
Market/Book Rank(?)
45
Beta
1.71
Beta Rank
14
Alpha
0.01
Alpha Rank
63
DOWNLOAD A FREE SAMPLE OF OUR ARCBEST CORP (ARCB) REPORT BY CLICKING HERE
ValuEngine.com is an Independent Research Provider (IRP), producing buy/hold/sell recommendations, target price, and valuations on over 5,000 US and Canadian equities every trading day.
Contact ValuEngine at (800) 381-5576 or support@valuengine.com  
Visit www.ValuEngine.com for more information
ValuEngine Capital Management LLC is a Registered Investment Advisory (RIA) firm that trades client accounts using ValuEngine's award-winning stock research.
Contact ValuEngine Capital at info@valuenginecapital.com
Visit www.ValuEngineCapital.com for more information
Steve Hach
Senior Editor
ValuEngine.Com