For today's bulletin, we take a look at one of our top upgrades for the day, Winnebago $WGO. We also provide a link to download a FREE STOCK REPORT on the company.
NYSE:WGO

VALUATION WATCH: Overvalued stocks now make up 54.67% of our stocks assigned a valuation and 21.46% of those equities are calculated to be overvalued by 20% or more. Thirteen sectors are calculated to be overvalued.

Winnebago (WGO) is a leading United States (U.S.) manufacturer of recreation vehicles (RVs), which are used primarily in leisure travel and outdoor recreation activities. The Company builds quality motorhomes, travel trailers, fifth wheel products, and toy haulers under the Winnebago and Grand Design brand names. The Company markets its recreation vehicles on a wholesale basis to a diversified dealer organization located throughout the U.S., and Canada. The Company builds quality motor homes under the Winnebago, Itasca and ERA brand names with state-of-the-art computer-aided design and manufacturing systems on automotive-styled assembly lines. Winnebago Industries has received the Quality Circle Award from the Recreation Vehicle Dealers' Association every year since the award's inception in 1996.

Want to learn more about ValuEngine? Our methods? Our history?
Check out our video presentation HERE

ValuEngine updated its recommendation from BUY to STRONG BUY for Winnebago on 2018-03-20. Based on the information we have gathered and our resulting research, we feel that Winnebago has the probability to OUTPERFORM average market performance for the next year. The company exhibits ATTRACTIVE Momentum and P/E Ratio.

You can download a free copy of detailed report on Winnebago (WGO) from the link below.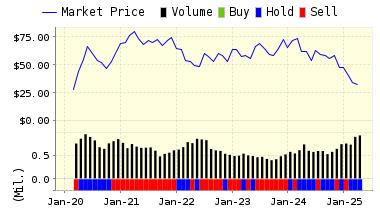 ValuEngine Forecast
Target
Price*
Expected
Return
1-Month
44.49
1.10%
3-Month
44.49
1.12%
6-Month
45.77
4.02%
1-Year
49.83
13.25%
2-Year
52.01
18.21%
3-Year
53.19
20.88%
Valuation & Rankings
Valuation
13.40% overvalued
Valuation Rank(?)
30
1-M Forecast Return
1.10%
1-M Forecast Return Rank
99
12-M Return
49.66%
Momentum Rank(?)
89
Sharpe Ratio
0.42
Sharpe Ratio Rank(?)
72
5-Y Avg Annual Return
16.15%
5-Y Avg Annual Rtn Rank
82
Volatility
38.06%
Volatility Rank(?)
43
Expected EPS Growth
0.00%
EPS Growth Rank(?)
19
Market Cap (billions)
1.18
Size Rank
63
Trailing P/E Ratio
14.19
Trailing P/E Rank(?)
81
Forward P/E Ratio
14.19
Forward P/E Ratio Rank
59
PEG Ratio
1,845,490.00
PEG Ratio Rank
1
Price/Sales
0.68
Price/Sales Rank(?)
79
Market/Book
2.59
Market/Book Rank(?)
46
Beta
1.76
Beta Rank
14
Alpha
0.01
Alpha Rank
64
DOWNLOAD A FREE SAMPLE OF OUR WINNEBAGO (WGO) REPORT BY CLICKING HERE
ValuEngine.com is an Independent Research Provider (IRP), producing buy/hold/sell recommendations, target price, and valuations on over 5,000 US and Canadian equities every trading day.
Contact ValuEngine at (800) 381-5576 or support@valuengine.com  
Visit www.ValuEngine.com for more information
ValuEngine Capital Management LLC is a Registered Investment Advisory (RIA) firm that trades client accounts using ValuEngine's award-winning stock research.
Contact ValuEngine Capital at info@valuenginecapital.com
Visit www.ValuEngineCapital.com for more information