For today's bulletin, we take a look at the latest news on Wells Fargo $WFC and provide a link to download a copy of our latest stock report on the banking giant.
VALUATION WATCH: Overvalued stocks now make up 41.87% of our stocks assigned a valuation and 25.39% of those equities are calculated to be overvalued by 20% or more. Six sectors are calculated to be overvalued.

Wells Fargo & Company (WFC) is a diversified, community-based financial services company with $1.9 trillion in assets. Wells Fargo's vision is to satisfy our customers' financial needs and help them succeed financially. Headquartered in San Francisco, Wells Fargo provides banking, insurance, investments, mortgage, and consumer and commercial finance through more than 8,400 locations, 13,000 ATMs, the internet (wellsfargo.com) and mobile banking, and has offices in 42 countries and territories to support customers who conduct business in the global economy. With approximately 268,000 team members, Wells Fargo serves one in three households in the United States.
Want to learn more about ValuEngine? Our methods? Our history?
Check out our video presentation HERE
Fallout from Wells Fargo's shady business practices continues to damage the banking firm. Today, it was announced that they would pay $65 million to the state of New York in order to settle a suit filed by the New York State Attorney General.
Wells Fargo engaged in a variety of illegal activities as part of its "cross selling" scandal. This payment settles one aspect of the case, the one related to lying to investors about the cross selling and its role in boosting the financial appeal of the bank.
The NY AG was quick to point out that they are still looking at a variety of other illegal practices. These activities included setting up new accounts for customers who never asked for them so that managers and others could garner big bonus payments. The bank, in fact, set up as many as two million accounts without customers knowing about them. Bank employees also enrolled customers in a variety of services without consent.
Shares of the bank dropped on the news.
VALUENGINE RECOMMENDATION: ValuEngine continues its HOLD recommendation on Wells Fargo & Company for 2018-10-19. Based on the information we have gathered and our resulting research, we feel that Wells Fargo & Company has the probability to ROUGHLY MATCH average market performance for the next year. The company exhibits ATTRACTIVE Company Size but UNATTRACTIVE Price Sales Ratio.
You can download a free copy of our summary report on Wells Fargo & Company (WFC) from the link below.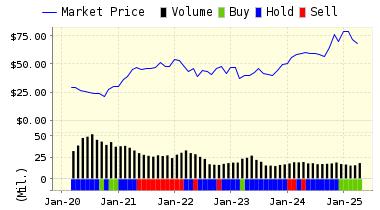 ValuEngine Forecast
Target
Price*
Expected
Return
1-Month
52.75
-0.27%
3-Month
52.45
-0.83%
6-Month
52.03
-1.62%
1-Year
51.15
-3.29%
2-Year
55.20
4.37%
3-Year
59.44
12.38%
Valuation & Rankings
Valuation
5.49% undervalued
Valuation Rank(?)
52
1-M Forecast Return
-0.27%
1-M Forecast Return Rank
28
12-M Return
-1.60%
Momentum Rank(?)
53
Sharpe Ratio
0.26
Sharpe Ratio Rank(?)
67
5-Y Avg Annual Return
4.81%
5-Y Avg Annual Rtn Rank
64
Volatility
18.51%
Volatility Rank(?)
70
Expected EPS Growth
14.19%
EPS Growth Rank(?)
47
Market Cap (billions)
274.37
Size Rank
100
Trailing P/E Ratio
12.30
Trailing P/E Rank(?)
80
Forward P/E Ratio
10.77
Forward P/E Ratio Rank
70
PEG Ratio
0.87
PEG Ratio Rank
43
Price/Sales
2.72
Price/Sales Rank(?)
38
Market/Book
1.76
Market/Book Rank(?)
57
Beta
1.16
Beta Rank
27
Alpha
-0.22
Alpha Rank
29
DOWNLOAD A FREE SAMPLE OF OUR WELLS FARGO & COMPANY (WFC) REPORT BY CLICKING HERE
ValuEngine.com is an Independent Research Provider (IRP), producing buy/hold/sell recommendations, target price, and valuations on over 5,000 US and Canadian equities every trading day.
Contact ValuEngine at (321) 325-0519 or support@valuengine.com  
Visit www.ValuEngine.com for more information
ValuEngine Capital Management LLC is a Registered Investment Advisory (RIA) firm that trades client accounts using ValuEngine's award-winning stock research.
Contact ValuEngine Capital at info@valuenginecapital.com
Visit www.ValuEngineCapital.com for more information
Steve Hach
Senior Editor
ValuEngine.Com