For today's bulletin, we take a look at Wynn Resorts (WYNN). We also provide a link to download a FREE STOCK REPORT on the company. Overvaluation has declined below 60% and therefore we have ended our latest Valuation Watch.
VALUATION WATCH: Overvalued stocks now make up 51.79% of our stocks assigned a valuation and 18.83% of those equities are calculated to be overvalued by 20% or more. Because overvaluation has declined below 60%, we have reinstituted a Valuation Watch. Twelve sectors are calculated to be overvalued.
Wynn Resorts, Limited (WYNN) owns and operates Wynn Las Vegas and Encore in Las Vegas, Nevada as well as Wynn Macau and the Wynn Palace located in the Special Administrative Region of Macau in the People's Republic of China. The Company holds more Forbes Travel Guide Five Stars than any other independent hotel company in the world and is led by Chairman of the Board and Chief Executive Officer, Mr. Stephen A. Wynn, who possesses more than 45 years of development experience of casino resorts. Wynn Resorts, Limited is traded on the Nasdaq Global Select Market under the ticker symbol WYNN and is part of the S&P 500. Wynn Resorts is currently constructing Wynn Boston Harbor located in Everett, Massachusetts.
Wynn Resorts CEO and iconic Vegas figure Steve Wynn is out as the top man at his eponymous company today as the fallout from last-week's sexual misconduct allegations continue to resonate throughout the gambling industry.
Wynn, who has denied the allegations and claimed they are the fault of an ex-wife involved in litigation over company stock connected to her former board position, resigned last night and in a statement claimed that he had "reached the conclusion I cannot continue to be effective in my current roles" due to "an avalanche of negative publicity."
That is just a bit of an understatement given the Wall Street Journal's brutal expose last week which detailed numerous instances of sexual harassment, abuse, and–in one instance–assault. Included in the details of that article was a $7.5 million settlement paid by Wynn to a casino employee who alleged that Wynn forced her to have sex with him against her will.
It remains to be seen how much more fallout will occur. Wynn resigned from his position as Finance Chairman of the Republican National Committee last week. Wynn has also resigned as the chairman and CEO of the Wynn Macau company. The firm also faces investigations from state regulators in Massachusetts and Nevada.
Known for building top-notch strip properties such as the Mirage, Treasure Island, and–the crown jewel, Bellagio.
Wynn was a legend in Las Vegas. However, the sort of behavior detailed by the WSJ is beyond the pale–even for a 76-year old CEO of the old guard.
It will take a while to see what sort of financial impact–if any–this will have on Wynn Resorts' bottom line. It was reported that Wynn paid off the woman he is alleged to have assaulted with his own funds via a private LLC. It remains to be seen if other victims will come forward and if the casinos will be forced to pay additional settlements.
ValuEngine continues its HOLD recommendation on Wynn Resorts, Limited for 2018-02-06. Based on the information we have gathered and our resulting research, we feel that Wynn Resorts, Limited has the probability to ROUGHLY MATCH average market performance for the next year. The company exhibits ATTRACTIVE Momentum but UNATTRACTIVE Book Market Ratio.
You can download a free copy of detailed report on Wynn Resorts, Limited (WYNN) from the link below.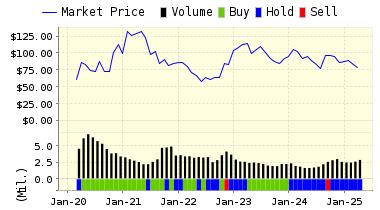 ValuEngine Forecast
Target
Price*
Expected
Return
1-Month
163.13
-0.05%
3-Month
159.21
-2.46%
6-Month
159.91
-2.03%
1-Year
162.18
-0.64%
2-Year
142.46
-12.72%
3-Year
124.96
-23.44%
Valuation & Rankings
Valuation
5.80% undervalued
Valuation Rank(?)
63
1-M Forecast Return
-0.05%
1-M Forecast Return Rank
46
12-M Return
68.23%
Momentum Rank(?)
93
Sharpe Ratio
0.14
Sharpe Ratio Rank(?)
56
5-Y Avg Annual Return
5.59%
5-Y Avg Annual Rtn Rank
59
Volatility
38.71%
Volatility Rank(?)
42
Expected EPS Growth
41.39%
EPS Growth Rank(?)
68
Market Cap (billions)
16.54
Size Rank
93
Trailing P/E Ratio
29.59
Trailing P/E Rank(?)
46
Forward P/E Ratio
20.93
Forward P/E Ratio Rank
29
PEG Ratio
0.71
PEG Ratio Rank
50
Price/Sales
2.62
Price/Sales Rank(?)
41
Market/Book
60.39
Market/Book Rank(?)
4
Beta
1.65
Beta Rank
16
Alpha
0.14
Alpha Rank
79
DOWNLOAD A FREE SAMPLE OF OUR WYNN RESORTS (WYNN) REPORT BY CLICKING HERE
ValuEngine.com is an Independent Research Provider (IRP), producing buy/hold/sell recommendations, target price, and valuations on over 5,000 US and Canadian equities every trading day.
Contact ValuEngine at (800) 381-5576 or support@valuengine.com  
Visit www.ValuEngine.com for more information
ValuEngine Capital Management LLC is a Registered Investment Advisory (RIA) firm that trades client accounts using ValuEngine's award-winning stock research.
Contact ValuEngine Capital at info@valuenginecapital.com
Visit www.ValuEngineCapital.com for more information