For today's bulletin, we take a look at our latest STRONG BUY and BUY upgrades and focus on one of our top upgrades for the day, AstraZeneca $AZN. We also provide a link to download a FREE STOCK REPORT on the company. Overvaluation has declined below 60% and therefore we have ended our latest Valuation Watch.
VALUATION WATCH: Overvalued stocks now make up 57.83% of our stocks assigned a valuation and 22.96% of those equities are calculated to be overvalued by 20% or more. Because overvaluation has declined below 60%, we have reinstituted a Valuation Watch. Twelve sectors are calculated to be overvalued.
For today's edition of our upgrade list, we used our website's advanced screening functions to search for UPGRADES to BUY or STRONG BUY with complete forecast and valuation data. They are presented by one-month forecast return. AstraZeneca and Deckers Outdoor are STRONG BUY stocks. Sony, Southern First BC, and Employers Holdings are rated BUY.
| | | | | | | | | |
| --- | --- | --- | --- | --- | --- | --- | --- | --- |
| Ticker | Company Name | Market Price | Valuation | Last 12-M Return | 1-M Forecast Return | 1-Yr Forecast Return | P/E Ratio | Sector Name |
| AZN | ASTRAZENECA PLC | 35.9 | 14.06% | 30.26% | 1.16% | 13.88% | 11.06 | Medical |
| DECK | DECKERS OUTDOOR | 93.63 | 59.65% | 68.58% | 1.14% | 13.73% | 17.39 | Consumer Discretionary |
| SNE | SONY CORP ADR | 51.99 | 6.97% | 62.77% | 0.67% | 8.05% | 17.45 | Consumer Discretionary |
| SFST | SOUTHN FIRST BC | 44.35 | 19.90% | 33.79% | 0.54% | 6.52% | 21.22 | Finance |
| EIG | EMPLOYERS HLDGS | 43 | 11.71% | 18.13% | 0.51% | 6.18% | 17.94 | Finance |
For today's bulletin, we take a look at AstraZeneca PLC (AZN). AstraZeneca is one of the top five pharmaceutical companies in the world based on sales and is a therapeutic leader in cardiovascular, gastrointestinal, oncology, anesthesia including pain management, central nervous system (CNS) and respiratory products. They are engaged in the research, development, manufacture and marketing of ethical (prescription) pharmaceuticals and agricultural products, and the supply of healthcare services.
We have had some wobbles for the markets over the past few trading sessions. This should not be surprising given the big run up we have witnessed since the devilish SP500 666 low of March 2009. It's been a great run since the Obama Administration put the economy on the path back from the disaster of the financial crisis of 2007-2008.
Of course, the current occupant of the White House, Donald J. Trump, spent his entire campaign denigrating the Obama economy only to find that–as if by magic–all problems were solved the day he took office.
But Trump may have made an error here–one among many since his inauguration–given the fact he has been touting the high stock-market closes as an obvious direct result of his policies. It will be interesting how Trump, notoriously unwilling to ever admit blame or fault, will handle the past few days' massive losses.
For investors, as always we note that our valuation figures were indicating an overheated market for quite some time now. We also note that for most investors–with the exception of those in or near retirement–these sorts of day-to-day fluctuations should NOT effect your overall plan. Trying to trade the market, trying to time the market, is most often a fool's game.
Slow and steady wins the race. Keep paying down debt, keep investing on a regular basis, and over time you should benefit from the power of the US economy and compounding returns.
But, be aware of bubble-type situations. We saw massive speculation in crypto-currencies and now we see carnage in those markets. We have also been warning about overheated equities and now we see some pullback there as well.
These situations are good for "buying on the dips" if you have any equities which you felt were just not attractive at the higher valuations of the past few weeks.
But, on the other hand, beware of trying to "catch a falling knife."
Below is our latest data for AstraZeneca, our best upgrade for the day–which is now 6% cheaper than it was at the start of today's trading and the big pullback for the session:
ValuEngine updated its recommendation from BUY to STRONG BUY for AstraZeneca on 2018-02-02. Based on the information we have gathered and our resulting research, we feel that AstraZeneca has the probability to OUTPERFORM average market performance for the next year. The company exhibits ATTRACTIVE Company Size and P/E Ratio.
You can download a free copy of detailed report on AstraZeneca PLC (AZN) from the link below.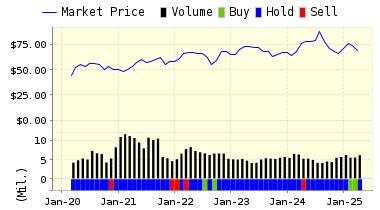 ValuEngine Forecast
Target
Price*
Expected
Return
1-Month
36.31
1.16%
3-Month
36.41
1.43%
6-Month
37.25
3.76%
1-Year
40.88
13.88%
2-Year
43.19
20.29%
3-Year
45.26
26.08%
Valuation & Rankings
Valuation
14.06% overvalued
Valuation Rank(?)
31
1-M Forecast Return
1.16%
1-M Forecast Return Rank
99
12-M Return
30.26%
Momentum Rank(?)
76
Sharpe Ratio
0.33
Sharpe Ratio Rank(?)
66
5-Y Avg Annual Return
7.51%
5-Y Avg Annual Rtn Rank
63
Volatility
22.58%
Volatility Rank(?)
64
Expected EPS Growth
-41.40%
EPS Growth Rank(?)
5
Market Cap (billions)
45.34
Size Rank
97
Trailing P/E Ratio
11.06
Trailing P/E Rank(?)
91
Forward P/E Ratio
18.87
Forward P/E Ratio Rank
38
PEG Ratio
n/a
PEG Ratio Rank
n/a
Price/Sales
2.04
Price/Sales Rank(?)
50
Market/Book
2.94
Market/Book Rank(?)
42
Beta
0.71
Beta Rank
53
Alpha
0.10
Alpha Rank
76
DOWNLOAD A FREE SAMPLE OF OUR ASTRAZENECA (AZN) REPORT BY CLICKING HERE
ValuEngine.com is an Independent Research Provider (IRP), producing buy/hold/sell recommendations, target price, and valuations on over 5,000 US and Canadian equities every trading day.
Contact ValuEngine at (800) 381-5576 or support@valuengine.com  
Visit www.ValuEngine.com for more information
ValuEngine Capital Management LLC is a Registered Investment Advisory (RIA) firm that trades client accounts using ValuEngine's award-winning stock research.
Contact ValuEngine Capital at info@valuenginecapital.com
Visit www.ValuEngineCapital.com for more information